RalphAmerica reports that "Icky Flix Live", the recent DVD release by The Residents is available again:
"If you missed out on the first pressing of the Icky Flix Live DVD, it's back in it's 2nd pressing form.
Icky Flix as recorded by 5 cameras at the Experience Music Museum in Seattle. We were there, this was a crazy show, with a HUGE video screen behind them, and all sorts of crazy added lights and effects that weren't at any of the other shows on the tour. This is the entire show.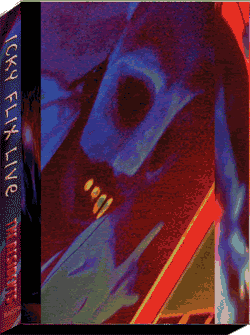 It's exactly the same as the first pressing except: New cover, and no hand numbers as this 2nd pressing is limited to 350 copies (and this is acknowledged on the back cover)."
Place your orders at http://ralphamerica.com