The Rolling Stones have unlocked the door to their archive, full of music, film and memorabilia from their almost 50 year career. At www.StonesArchive.com you can listen to unheard music, view unseen photographs and films, and look at rare merchandise. Fans have the opportunity to buy items such as signed lithographs, deluxe box sets, even personalized merchandise and tour gear.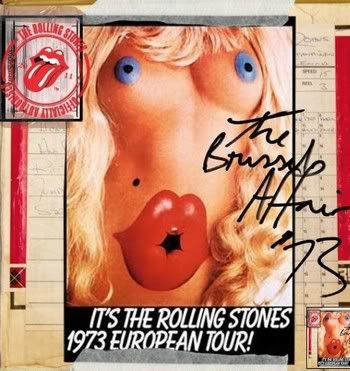 The first item the band are releasing is the long-awaited download of a legendary 1973 concert, recorded at the Forest National in Belgium. Long hailed by die-hard Stones fans as one of the band's greatest live performances, The Brussels Affair has been a mainstay in the underground music world for years. The original bootlegs, sold under such titles as Europe 73, Bedspring Symphony and Brussels Affair, were cobbled together from assorted radio broadcasts, including the syndicated radio programme King Biscuit Flower Hour, and usually contained songs performed at other venues. The new edition, pulled exclusively from the two Brussels gigs, was taken from the original multi-track masters recorded by Andy Johns on the Rolling Stones Mobile Studio. Longtime Stones collaborator Bob Clearmountain applied the final mix.
Although the Stones began readying a live album of the show for commercial release, the idea was ultimately shelved – a tragedy given the ferocity of the set and the definitive live versions of Stones classics that it presents. Fortunately, that has all changed today. If there was one Rolling Stones bootleg that needed to find its way into the mainstream, Brussels '73 was it.
"The Brussels Affair" can be downloaded here.