Hot on the heels of "Feeding the monkies at ma maison" – which turns out to a very interesting missing link betweet "Jazz from hell" and "Civilization Phase III" – the Zappa Family Trust have more goodies in store for us: Frank Zappa's only two performances at Carnegie Hall in New York are about to be released on cd for the very first time.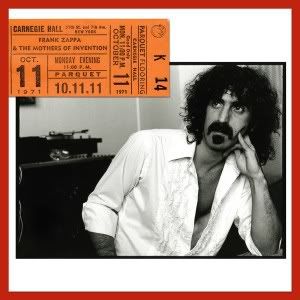 This 4cd-set, simply titled "Carnegie Hall" will be released around Hallowween, Zappa's favorite holiday. At the time of these performances (October 1971) Zappa's band included Flo & Eddie, Ian Underwood and Aynsley Dunbar. Support act The Persuasions are also included on this historic release.
Pre-order "Carnegie Hall" directly from Barfko Swill.