THIS PLANET IS DOOMED, which collects the science-fiction poetry of Sun Ra, explodes into the stratosphere on 7/7/11, an auspicious day for numerologists and doomsday enthusiasts alike. 7/7 coincides historically with the detonation of 20 kiloton Little Feller II, the first of the last four above ground nuclear warhead tests conducted in the US. The date will also evidence interstellar overdrive when Saturn, Pluto , Uranus and Venus form an intense and rare alignment known as the Cardinal Grand Cross.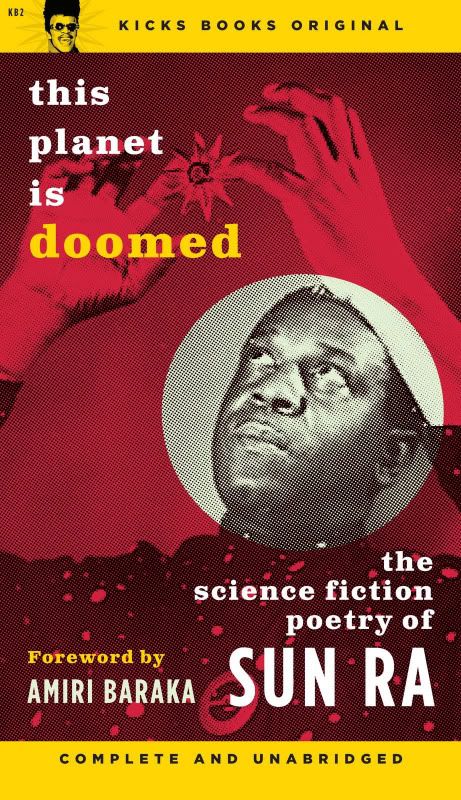 THIS PLANET IS DOOMED serves up a traumatic torrent of future shock—deeply personal and critical commentary and unsettling advice to the people of Earth, who fail to acknowledge this planet's role in the universe.
Poet Amiri Baraka's estimable foreword, together with science fiction historian Bhob Stewart's revealing introduction, set the stage for the heavy dose of the real and the unreal, which are delivered in the pages of THIS PLANET IS DOOMED.
This book was collected from tape recordings and transcriptions culled from the Sun Ra Archives by director Michael Anderson, who worked with Norton Records to compile a total of six albums—three collections of rare and unissued music recordings (on LP and CD) plus a trio (vinyl only) of unissued spoken word Sun Ra LP's. A collector's edition 45 of "I Am Strange" is also available.
THIS PLANET IS DOOMED was expanded with the addition of several key "lost" poems which appear here for the first time.
In conjunction with the publication of THIS PLANET IS DOOMED, the Orchard has launched downloads of the vinyl spoken word albums, which are entitled STRANGE WORLDS IN MY MIND, THE SUB-DWELLERS and THE OUTER DARKNESS.
Order Sun Ra books from Amazon.com