Mitch Miller, an influential record producer who became a hugely popular recording artist and an unlikely television star a half century ago by leading a choral group in familiar old songs and inviting people to sing along, died Saturday in Manhattan. He was 99.
Miller had been an accomplished oboist and was still a force in the recording industry when he came up with the idea of recording old standards with a chorus of some two dozen male voices and printing the lyrics on album covers.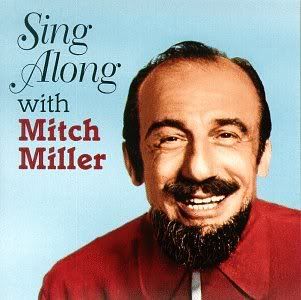 The "Sing Along With Mitch" album series, which began in 1958, was an immense success, finding an eager audience among older listeners looking for an alternative to rock 'n' roll. Mitch Miller and the Gang serenaded them with tunes like "Home on the Range," "That Old Gang of Mine," "I'll Take You Home Again, Kathleen" and "It's a Long Way to Tipperary."
When the concept was adapted for television in 1961, with the lyrics appearing at the bottom of the screen, Miller, with his beaming smile and neatly trimmed mustache and goatee, became a national celebrity.
By then he had established himself as a hit maker for Columbia Records and a career shaper for singers like Tony Bennett, Rosemary Clooney, Johnny Mathis, Doris Day, Patti Page and Frankie Laine. First at Mercury Records and then at Columbia, he helped define American popular music in the postwar, pre-rock era, carefully matching singers with songs and choosing often unorthodox but almost always catchy instrumental accompaniment.
Tony Bennett's career took off after Mitch Miller persuaded him to record the ballad "Because of You," backing him with a lush orchestral arrangement by Percy Faith. It reached No. 1 on the pop charts in 1951.
By the end of the 1950s Miller's eye and ear for talent and songs had been critical in making Columbia the top-selling record company in the nation.
Mitch Miller was the Midas of novelty music, storming the charts with records like Jimmy Boyd's "I Saw Mommy Kissing Santa Claus" and providing singers with unusual instrumental backing: a harpsichord for Rosemary. Clooney, French horns for Guy Mitchell. One of his earliest hits, "Mule Train," was recorded by the muscular-voiced Frankie Laine with three electric guitars, and Miller himself using a wood block to simulate the snapping of a whip.
Miller was also a studio innovator. Along with the guitarist Les Paul and a few others, he helped pioneer overdubbing, the technique by which different tracks are laid over one another to produce a richer effect. He also achieved what he called a sonic "halo" on numerous recordings by the use of what came to be called an echo chamber — actually an effect an engineer produced by placing a speaker and a microphone in a tiled restroom.
His touch was not always sure. When he had bagpipes accompany Dinah Shore on a song called "Scottish Samba" the result was, in Miller's own words, "a dog." And probably the nadir of Frank Sinatra's recording career came after Mr. Miller left Mercury and took over pop production at Columbia in 1950.
Sinatra complained that Miller forced him to record inferior material like "Bim Bam Baby," "Tennessee Newsboy" and, perhaps most notoriously, "Mama Will Bark," a 1951 novelty duet with the television personality Dagmar that included dog imitations.
Interviewed by Time magazine in 1951, Miller was less than enthusiastic about the kind of gimmicky pop records that had become his specialty. "I wouldn't buy that stuff for myself," he said. "There's no real artistic satisfaction in this job. I satisfy my musical ego elsewhere."
In 1960 his singalong concept was given a one-time television test on NBC. The response was so favorable that "Sing Along With Mitch" became a mainstay of family television, running from 1961 to 1964, then returning in reruns in the summer of 1966.
Even at the singalongs' height, many Americans considered them hopelessly corny. That sense only intensified as a younger generation came of age in the 1960s and musical tastes changed. There were news reports that shopping malls had begun piping Mitch Miller music on their sound systems as a way to discourage teenagers from congregating. Years later, in 1993, when David Koresh and members of his Branch Davidian cult were holed up in their compound in Waco, Tex., F.B.I. agents tried to flush them out by blasting "Sing Along With Mitch" Christmas carols.