Masterful exotica group Waitiki 7 is releasing their new album New Sounds of Exotica on June 7th. With a luscious mix of tropical landscapes, Latin percussion, and popular jazz (oh, and did we mention the bird calls?), Waitiki 7 revisits some old tiki classics and adds their own stamp on exotica. To give you a taste of they're all about, check out the group performing Martin Denny's "Firecracker" on YouTube.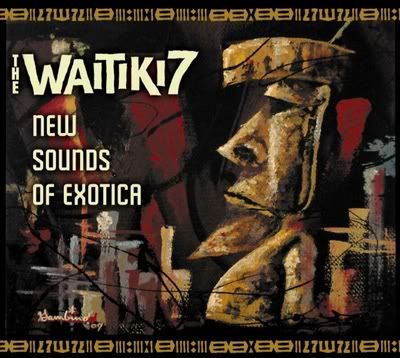 Take one part diverse players with intense focus and killer chops, and one part neglected mid-century multi-ethnic hybrid music with origins on America's harmonious island paradise. Add a dash of Technicolor tropical dreamscape, a twist of wild birdcalls, and stir soulfully.
Waitiki 7 serves up this polychrome cocktail, taking a new serious spin on exotica, the musical genre that leaped from Hawai'i's fashionable bars and clubs to mainstream living rooms in post-War America. Keeping true to exotica's deep roots and intense demands on musicians, with New Sounds of Exotica the group brings heady passion, acoustic musicianship, and a love of old-school mixology to an art form just begging to be revisited and savored.
Waitiki 7 embraces the pulse and ambiance of exotica, while adding their own stamp thanks to the diverse jazz, classical, and folk backgrounds the seven members bring to the group, including the jazz drums of multi-instrumentalist Abe Lagrimas, Jr; the thoughtful and vigorous Latin and jazz piano of Zaccai Curtis; the ever cool vibes of classically trained Jim Benoit.Improvisation and more expansive, expressive solos, something rarely heard in carefully scored classic exotica, play a major role in shaping the band's sound, as do unexpected instruments from violin (classical virtuoso Helen Liu) to woodwinds of all shapes and sizes (Berklee instructor and Latin jazz master Tim Mayer).
Adding a new dimension to the rhythm sections of the past, lush melodies come to the fore on Waitiki 7's tour of exotica standards like the beautiful "Bali Ha'i" of South Pacific fame. Or on the mysterious yet once wildly popular "Similau," penned by one of dozens of exotica ghostwriters hired to copy Denny and Lyman's signature sound – without the prohibitive licensing costs.
Read our review of Waitiki 7's previous album here.