Basta Audio Visuals has reissued two great Raymond Scott related titles on CD for the first time: "This Time with Strings" and "Dinner Music for a Pack of Hungry Cannibals".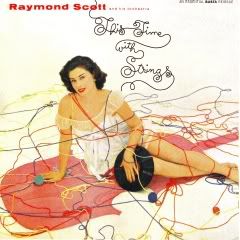 Raymond Scott (1908-1994), who was both musician and inventor, musically re-invented eleven of his compositions for full orchestra and strings on the 1957 album THIS TIME WITH STRINGS. It is now being released as part of Basta's Essential Reissue Series — the first time the album has appeared on CD. Many of these tunes were originally recorded by Scott's novelty jazz six-man Quintette in the late 1930s; others date from the 1940s and '50s. All get a spectacular makeover under the baton of the legendary maestro.
The CD booklet includes the complete original liner notes by jazz historian Burt Korall. The album was recorded in glorious monophonic sound, which is retained on CD. No artificial processing. Crank up the Hi-Fi!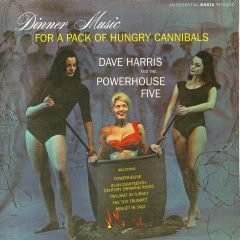 Dave Harris played tenor sax in Raymond Scott's legendary late 1930s six-man "Quintette." Over a long career as a sought-after session musician in New York and L.A., Harris (1913-2002) released only one record as a bandleader. That was DINNER MUSIC FOR A PACK OF HUNGRY CANNIBALS in 1958, and it was a tribute to his old boss, for whom he held deep respect. Harris and the Powerhouse Five recaptured the manic elegance and rhythmic wit of twelve classic Scott tunes. Nostalgia was the inspiration, but sharp musicianship and a celebratory gusto mark this album as a missing link in the Scott legacy. Basta presents the first CD reissue of this long out of print album.
As a director with a musical pedigree, Harris, on Dinner Music for a Pack of Hungry Cannibals, maintains the high standards set by his old boss, recapturing the spunk, energy, and humor of the original RSQ. While there's an obvious element of nostalgia at play, don't underestimate the joyfulness and craftsmanship of these performances.
Both titles are available from Bastamusic.com.